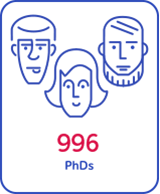 ITMO University as a world-class research center offers post-graduate and doctoral research opportunities across a wide range of disciplines.
ITMO University doctoral programs are comprised of several courses and a dissertation.
The programs are designed to support students generating new knowledge in chosen research fields.
We offer students 20+ practically-oriented programs that are international in scope, interdisciplinary in approach and intensive in mentoring.
ITMO University implements the programs of double postgraduate study with foreign partner universities, programs of double-degree.
Twice a year ITMO University organizes a competition for academic mobility programs in foreign partner universities in order to stimulate the educational process and increase the activity within the framework of the scientific and project activities of the students. The applicants who successfully passed this competition receive financial support to participate in programs of international academic mobility. The ITMO University pays a scholarship to the participant of program and provides a place in the dormitory (if necessary) for the whole duration of study.
Financing of studying at the partner university, travel and residence in the country of the partner university is made from the receiving party funds or personal funds of the postgraduate student.
At the end of the program, each partner university issues a diploma of its own type. ITMO University issues a State Diploma.
RESEARCH AT ITMO UNIVERSITY
20 research areas:

Want to join ITMO postgraduate team?
To be admitted as a doctoral student you should:
Have a Master's degree in a related field

Have the motivation to research and the ability to cope with the program

Select one of 15+ double-degree doctoral program right for your career