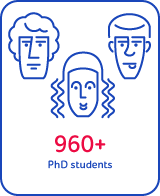 ITMO University is a world-class research center offering postgraduate and doctoral research opportunities across a wide range of fields.
ITMO University PhD programs are comprised of several courses and a research thesis.
The programs are designed to support students generating new knowledge in chosen research fields.
We offer 20+ practice-oriented programs that are international in scope, interdisciplinary in approach and intensive in mentoring.
ITMO University implements a number of double-degree programs in collaboration with its international partner universities. Financing of studies at a partner university, travel and accommodation in the country of a partner university is made from the receiving party's funds or personal funds of the PhD student. At the end of the program, each partner university issues a diploma of its own type. ITMO University issues a state diploma.
ITMO University supports its PhD students' academic mobility endeavors by holding a partial funding competition for their participation in a research internship up to one month in length at a university or a research center abroad, as well as their participation in online and offline international (i.e. those held outside of Russia) conferences in order to deliver a report. Read more here.
RESEARCH AT ITMO UNIVERSITY
Research areas include:

Want to join ITMO's postgraduate team?
To be admitted as a doctoral student you should:
Have a Master's degree in a related field

Have the motivation to conduct high-level research and the ability to study on a full-time basis

Select a doctoral program
Detailed information about the application procedure is available on the official website of ITMO University's Office of International Postgraduate and Doctoral Studies.