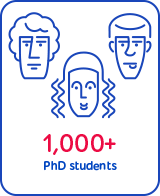 Pursue your PhD at ITMO
ITMO University is a world-class research center that offers PhD and DSc opportunities across a wide array of fields;

During their studies, PhD students attend a number of specialized courses and complete a research thesis;

The programs are designed to support students generating knowledge in the fields of their choice;

The university offers 54 programs – all of them are international, practice-oriented, interdisciplinary, and intensive.
PhD programs at ITMO are built upon individual learning tracks, giving students a complete freedom to shape their own curriculum and research according to their goals and needs. As a general rule, it takes three to four years to complete a PhD program. However, students who have accumulated enough publications and are ready with their thesis can defend it ahead of schedule. Throughout their training, young scientists receive assistance from the university's high-profile supervisors and have free access to the on-campus laboratories, libraries, and innovative coworking spaces. Students can submit and present their thesis in both Russian and English in-person or online.
ITMO University implements several double-degree programs in collaboration with its international partner universities. All the costs, including tuition fees, travel, and accommodation, can be covered by the host university or the participants of the program themselves. After successful completion of the program, students receive diplomas issued by the two universities.
The university supports the academic mobility endeavors of PhD students by holding a partial funding competition for their participation in research internships up to one month in length at a university or a research center abroad, as well as their participation in online and offline international conferences. Explore this opportunity here.
Research at ITMO

How to apply
Tuition-fee basis
Prospective students can study on a tuition-based position. To enroll into the program of your choice, you need to pass entrance exams and pay your tuition fees annually.
How-to
Step 1: Choose a program

Step 2: Choose your supervisor and reach out to them

Step 3: Apply on the admissions website

Step 4: Pass entrance exams and wait for the results
Russian Government Scholarship
All international students are eligible to apply for the Russian Government Scholarship. Winners get to study at ITMO for free and receive a monthly scholarship without having to take any entrance exams.
How-to
Step 1: Choose a program

Step 2: Choose your supervisor and reach out to them

Step 3: Get a letter of recommendation*

Step 4. Apply for the scholarship
*To get a letter of recommendation from ITMO, you need to complete Step 1 and 2 and then contact our department by email providing the following information:
a scanned copy of your passport (ID);
an email from your supervisor with their agreement to supervise your work;
a specialization you want to study for your PhD.
Open Doors: Russian Scholarship Project
Open Doors: Russian Scholarship Project is your chance to study for your PhD tuition-free at one of the leading universities in Russia. The competition is supported by the Russian Ministry of Science and Higher Education and is organized by the Association of Global Universities. ITMO University is a co-organizer of the competition and has been an active contributor to the project since its very beginning. Find out more here.
For more details, check out our article on how to get your PhD at ITMO.
Contacts